Granarolo Cheese Crisps Plain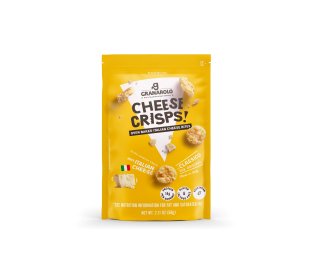 Item #: 8418
Cheese Crisps is the innovative cheese snack, oven baked and not fried, made in Italy with only 100% Italian aged cheese.
Irresistibly tasty and crispy, it is lactose free, gluten free and suitable for vegetarian diet, thanks to the use of microbial rennet! Cheese Crisps is rich in Calcium & Phosphorus and it has no preservatives, the best choice for a healthy and tasty break. Take it with you wherever you want, for all your breaks, as it doesn't need to be refrigerated!
Ingredients
Italian hard cheese (cow's milk, salt, microbial rennet).
Country: Italy
Size: 12 / 60 GR