Mere Poulard Cookies Pomme Caramel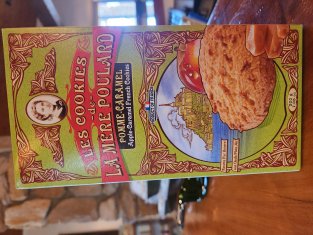 Item #: 575
La Mère Poulard (Annette Poulard) has been baking greatness since 1888 with natural ingredients such as eggs and butter. She has created delightful treats like Sables and Galettes for her customers and many a gourmet palette in her restaurant in St Mont Michel.
With no additives nor artificial flavours, non-GMO and all the ingredients from France - La Mère Poulard produces a range of quality biscuits made from secret family recipes, based on a hundred years of know-how and experience.
A taste of Normandy for this cookie from the United States, find the sweetness of apple and caramel in this cookie.