Ba-Tamte Mustard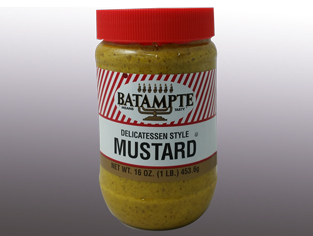 Item #: 7070
Ba-Tampte is a family-owned and operated corporation founded in 1955 by Meyer Silberstein. Prior to founding Ba-Tampte, Meyer learned the pickle business from his father and grandfather who ran pickle stands in Manhattan's Lower East Side and pushcarts in the Lowest East Side. Today, the business is managed by Meyer's sons, Barry and Howie Silberstein, and grandsons, Scott and Seth Silberstein. While their business may have changed over the last century, many of our pickle recipes have remained exactly the same.
Ba-Tampte (means "tasty" in Yiddish) is what you want on your pastrami on rye. "The very essence of mustard," said one taster. Great texture, a bit spicy, and there's a menorah on the label—can you really argue with that? If the Jewish delicatessen approves, bring it.
Brand: Ba-Tampte
Country: United States
Region: New York
Size: 12/16 OZ.