Berkel Red Pedestal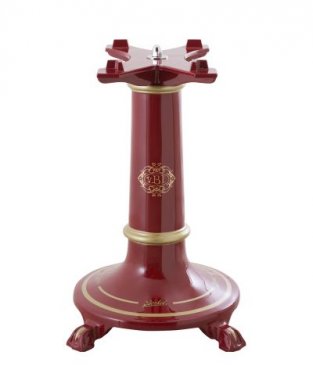 Item #: 10
There are few companies worldwide who actually invented the products they sell. Berkel is one of them. For over 100 years, Berkel has produced reliable equipment that chefs and operators depend on for consistently great results. Berkel's unique combination of experience and innovation has made it a name synonymous with quality foodservice slicers.
Their products have been vital to the work of delicatessen counters and butchers worldwide, they were created to last through the ages, but also to be put on display. The "historical Reds" were design icons of their time, cult objects that could be seen in many household living-rooms, where they sat proudly displayed on their pedestals.

Defined by many as the "Ferrari" of meat slicers, the Berkel meat slicer is still today, an object that is much copied, but has always been inimitable. Berkel meat slicers are even copied just like many fashion items, as for example, Rolex watches, or Gucci or Louis Vuitton handbags.
There are many collectors and speculators, or even just simple fans who find themselves often confused by the offers available from real or often pseudo restorers, and they ask to purchase an "official" fly wheel Berkel meat slicer directly from us, the parent company.
Brand: Berkel
Country: Italy
Size: 1 EA.