Cabot Orne Meadows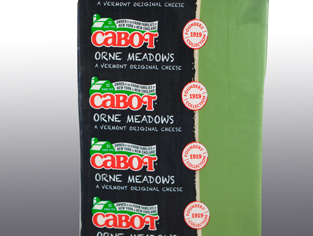 Item #: 7332

Orne Meadows Cheddar from Cabot Creamery is a a Vermont original cheese, and another Founders' Collection cheese from Cabot Creamery. It is made in the original style of the cheese makers who founded Cabot Creamery way back in 1919. This cheese offers a robust flair with a subtly sweet fruity and nutty finish.

Orne Meadows will transport you back in time to the fresh rolling hills of early 20th century Vermont. It's perfect for slicing and pairing, and its robust, sharp cheddar flair is delicious with muted crackers and warm breads. With a subtly sweet fruity and nutty finish, Orne Meadows is also a tasty choice for your next gathering.
Ingredients
Pasteurized milk, cheese cultures, salt, enzymes. Contains no animal rennet.
Style: Cheddar
Brand: Cabot
Country: United States
Region: Vermont
Size: CW 10 #
Precut Code: 9318