Whipped Low Fat Cottage Cheese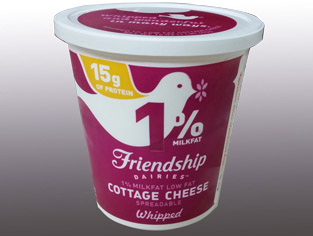 Item #: 7545
Tastes just as good as 1% cottage cheese but with a whipped, airy texture. High in protein, low in calories and fat, this all natural small curd cottage cheese is spreadable, making it a healthy substitute for other cheeses and spreads. You won't find any artificial preservatives here. Friendship only use nature's simplest ingredients to make the freshest tasting cottage cheese. Protein rich and totally creamy, our cottage cheese makes an excellent snack or healthy addition to any meal throughout the day.



So, go ahead. Take an extra bite or two. After all, it's only natural.
Brand: Friendship
Country: United States
Region: New York
Size: 6/16 OZ.