Chaource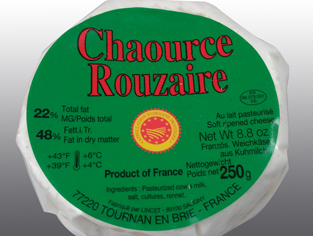 Item #: 26892
Chaource A.O.C. is a soft gourmet cheese from the Champagne region is named for its home town. It is richly delicious at all stages of its development, and goes very well with the famous wine from the same region.

Chaource comes in flat drum shapes with an edible white rind which may be mottled with red patches.

In the young gourmet cheese the paste is light yellow in color with a chalky texture. As it ripens it becomes very runny around the edges and through to the center. The maturation time is 2 months. The flavor of the young cheese is rich and mild, maturing to rich and nutty.
Style: Soft-Ripened
Brand: Rouzaire
Country: France
Region: Champagne
Size: 6/250 GR.
Texture: Soft