Explorateur Super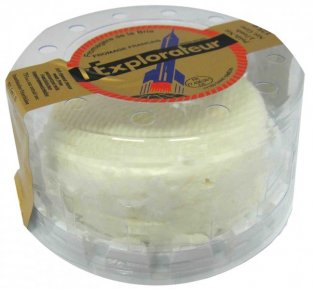 Item #: 26249
Explorateur, the aristocrat of triple-cream cheeses was invented in 1958 at the time the rocket Explorer was in the news. The French dairy which invented the cheese decided on a topical name and a picture of the rocket still appears on the wrapping.

Explorateur was one of the first cheeses to be created after the triple-cream classification was defined as a cheese with a butterfat content of 75 percent or more. This is achieved by adding a great deal of cream to the milk before coagulation.

This gourmet cheese is produced in small discs with a light, downy velvety white rind. The deep ivory paste is very soft and creamy. The flavor is very rich and mild, deepening a little with maturity.
Ingredients
pasteurized whole cow's milk, cream, salt, Chymosin microbial rennet
Style: Soft-Ripened
Country: France
Region: Ile-de-France
Size: 1.6 KG.
Texture: Soft