Trou du Cru-Echauguette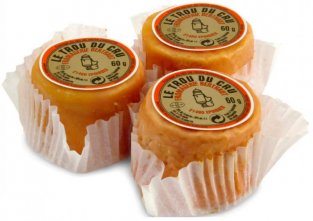 Item #: 21275
Trou du cru is a cheese from the Cote d'Or. For a period of three weeks, during its maturation, it is wiped with marc de Bourgogne, a strong alcohol. By this method, one experiences an aroma of alcohol scented with straw. Its strong savor with a floral aftertaste will delight lovers of strong tasting cheeses.

Trou du Cru is a very strong, pungent French cheese, developed by the cheesemaker Robert Berthaut in the early 1980s. It is a pasteurized cow's milk Époisses cheese from the Bourgogne region.

The soft cheese is ivory-yellow in color, with an orange, edible rind. For four weeks during its maturation, each small cheese is washed individually with Marc de Bourgogne, a strong local alcohol, which imparts a straw-like flavor to the cheese.
Style: Washed Rind
Brand: Berthaut
Country: France
Region: Burgundy
Size: 6x2/60 GR.
Texture: Semi-hard
Special Order: Yes