Fourmage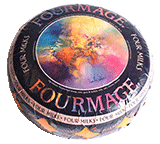 Item #: 8359
The combination of four grass fed milks seem to to have composed a cheese symphony, "Deliciosa". This cheese creation is a one of a kind masterpiece developed in Holland. It is a uniquely delicious mixture that harnesses the layers of flavors introduced by the four different milk types. This cheese is creamy velvet, partially in thanks to the rich buffalo milk. It reaches sweet notes from the sheep milk. Brings a fresh break through from the goat's milk. The cow milk brings back the reassuring Gouda flavor. The unique Buffalo milk ads a deep flavor with that extra creamy smooth finish. It is made like a traditional Gouda, in Holland, where the wonderful animals that make the milk, roam free and munch on fresh, nutritious grass all summer long. It's a young gouda style cheese keeping the flavor mellow, the texture creamy and wonderful for melting.
The artwork is a collaboration between a painter living in The Netherlands, Cheeseland's owner, a first class cheesemonger, Ivan Mijatovic unites colors that transport you to another world. Abstract art with nature as inspiration, he uses a large brush and palette knife to build his paintings layer by layer. He adds sand and templates to the acrylic paint, building a spiritual world where everything seems possible.
Ingredients
Pasteurized sheep, cow, goat & buffalo milk, salt, rennet, starter.
Style: Gouda
Brand: Cheeseland
Country: Holland
Region: Zuider Zee
Size: CW 10 #
Mixed Type: sheep, cow, goat & water buffalo
Texture: Firm
Precut Code: 9323