Ghiottini Alla Mandorla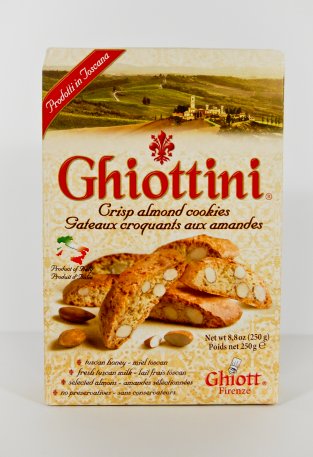 Item #: 8613
Imagine Florence fifty years ago. Imagine its streets and colors, art and culture. Then picture a small confectioner's workshop in this magical framework. A passion for tradition and the use of high quality raw materials inspire the creation of highly successful products both in Florence and throughout Tuscany. Ghiott's history begins in this very town, in the suggestive setting of the Passignano Abbey.

A history triggered by Enzo Salaorni's initiative – descendent of a line of expert confectioners, in 1953 he revisited and personalized the ancient Renaissance Cantuccini recipe to create Ghiottini. In a few years the product range gradually stretched to encompass the most traditional recipes of typical Tuscan confectionery: Brutti e Buoni, Amaretti, Panforte and Ricciarelli.

Ghiottini represent Ghiott's corporate image. A genuine Tuscan delicacy, they are based on traditional almond cantuccini, on Enzo Salaorni's original recipe for half a century.
Brand: Cantucci
Country: Italy
Region: Tuscany
Size: 12/250 GR.