Taste-it Tirami-su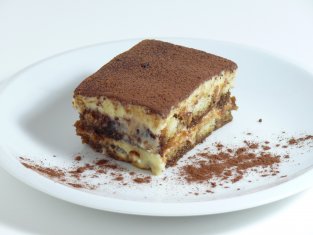 Item #: 8493
Italy's most famous dessert, Tiramisu ("Pick-Me-Up" in Italian) is an elegant treat that's not too sweet or too filling. We handcraft ours the old-fashioned way using the finest imported, authentic ingredients.

Starting with layers of imported mascarpone cream and authentic ladyfingers, we then delicately soak them in espresso with a hint of liqueur and finish with a dusting of cocoa powder.

Countless variations exist, but ours is unmatched in authentic flavor & melt-in-your-mouth quality. This tiramisu tray is ideal for portioning into squares. Each pre-scored tray yields 15 portions. Just thaw, serve and wait for the accolades to pour in!
Brand: Taste It
Country: United States
Region: New Jersey
Size: 2/4.25#