Mousse Canard Foie-Gras Petite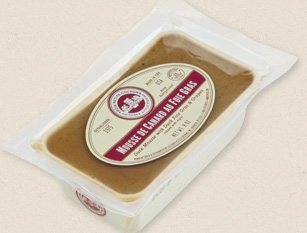 Item #: 7089
Duck Mousse with Duck Foie Gras & Grapes. Duck foie gras, duck liver and duck meat elegantly combined, then sweetened with fresh grapes, raisins and Sauternes wine.
Ingredients
​Duck Liver (minimum Foie Gras content 51%), Duck Skin, Cream, Eggs, Duck Meat, Grapes, Grape Juice Concentrate, Raisins, Milk, Sauternes Wine, Onions, Nonfat Dry Milk, Spices, Hydrolyzed Plant Protein (Corn Gluten, Soy Protein and Wheat Gluten), Mushrooms, Salt, Garlic, Mustard. Aspic: Water, Kosher Gelatin, Cognac, Glucono Delta Lactone, Salt, Concentrated Mushroom Juice, Lemon Powder, Onion Powder, Vinegar, White Pepper, Xanthan Gum, Carrageenan, Spices. Contains: Eggs, Milk, Soy, Wheat.
Country: United States
Region: New York
Size: 6/8 OZ.