Anchovy Filets in E.V.O.O,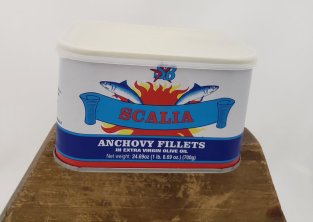 Item #: 592
Scalia anchovy fillets are cleaned and salted as soon as possible after being caught in order to preserve the rich, complex flavors and flawless texture. Scalia Benedetto has been doing things the old-fashioned way in Sicily since 1973, making them one of the most reliable producers of quality oil packed anchovies imported to the U.S. To develop even more distinct flavor, Scalia Benedetto ages their anchovies for at least 12 weeks and then packs them in premium extra virgin olive oil, rather than sunflower or soybean oil, which is often what anchovies commonly found in grocery stores are packed in. These unctuous, little fillets make a scrumptious addition to sauces and salads.
Anchovy Fillets in Extra Virgin Olive Oil by Scalia "Guarantee Of Quality" is the company's hallmark. Discover authentic Mediterranean taste and the tender quality of these anchovies.
Country: Italy
Region: Sicily
Size: 6 / 700 GR