Blue Hill Bay Herring Matjes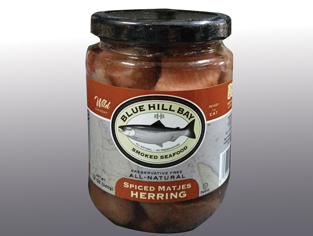 Item #: 534
UPC: 0 23384 14417 7
This wild Canadian herring is rich in heart healthy omega-3 fatty acids, all natural, and preservative free, creating just the right blend of assorted ingredients. Carefully marinated with all-natural ingredients to produce herring with a tender texture and a spicy rich flavor.
Ingredients
Herring Fillets, water, sugar, salt, white vinegar, spices, and beet powder.
Brand: Blue Hill Bay
Country: United States
Region: New York
Size: 12/12 OZ.