Blue Hill Bay Hot Smoked Salmon (Yukon Keta Candy)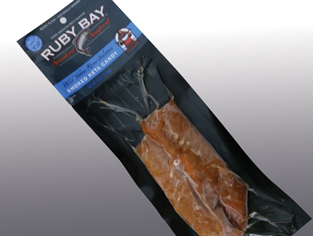 Item #: 541
UPC: 0 23384 15845 7
Blue Hill Bay Hot Smoked White Wild Alaskan King Salmon is a rare treat. Unlike most salmon, which are pink to red in color, the meat of Wild White King is – white! Slowly hot smoked or baked, the result is a moist and flaky fish that pleases the most discerning palates. Available in vacuum-sealed portions.
Ingredients
Wild Keta Salmon, Brown Sugar, Salt, Natural Wood Smoke
Brand: Blue Hill Bay
Country: United States
Region: New York
Size: 20/4 OZ.