Angel's Black Truffle Butter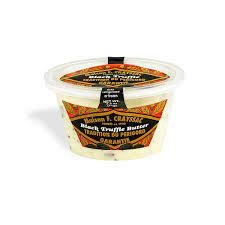 Item #: 7684
Hailing from Californian grass-fed cows, this European-style naturally cultured butter is blended with 5% Black Truffle Puree, Black Truffle Peelings and Sea Salt to create a traditional French flavor palette. Angel Salumi's Black Truffle Butter contains Grade AA (>82%) butterfat, and is made using Graziers-Certified Cream.
Brand: Angel's Salumi
Country: United States
Region: California
Size: 40 / 8 oz.