Champagne Vinegar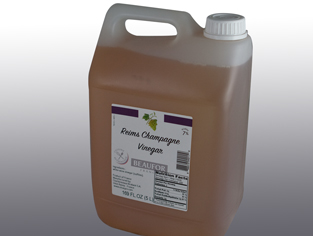 Item #: 973
UPC: 888513203473
Champagne vinegar is produced using the same types of grapes that are used to make champagne. It is created in much the same way as white and cider vinegars. Once each champagne grape hull is removed and the liquid drained, the end result is a vinegar that has a slight hint of vanilla taste, coupled with the rich flavor of champagne.
Beaufor's champagne vinegar is its shining star; delicate with a unique toasty bouquet. Made from grapes grown in Reims in France's Champagne region.
Ingredients
White wine vinegar. Contains sulfites from wine, no sulfites added in the final vinegar.
Brand: Beaufor
Country: France
Region:  Limoges
Size: 5 LT.