Mere Poullard Cookies Eclat Chocolat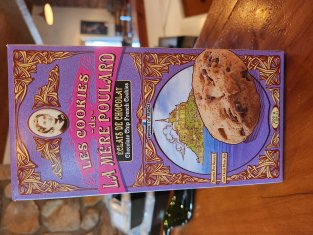 Item #: 573
At La Mere Poulard, commitment to quality is at the center of everything they do. Working under the belief that gourmet cookies can only be made from gourmet ingredients, they start the creation of their famous sable cookies with the finest quality Normandy butter, locally sourced wheat flour, free-range eggs, and a dash of Fleur de sel. This delicious buttery base makes for a tender and flavorful cookie, and the addition of high-quality dark chocolate makes them that much better! Try them today for a delicious taste of some of the best cookies France has to offer.
These delightful Chocolate Chip Sables from La Mere Poulard are as pretty as they are delicious. Each delicate cookie has a beautifully scalloped edge and the emblem 1888 stamped across the front. Enjoyed alone or alongside a generous scoop of vanilla ice cream, they are always served to the delight of all in attendance.
Ingredients
What flour (from France), butter (20%), sugar, shards of dark chocolate - cocoa: 50% minimum (11%), (cocoa paste, sugar, cocoa butter, emulsifier: soy lecithin), eggs (2.8%), salt, natural vanilla flavoring. May contain traces of sesame seed and nuts.