Volpi Guanciale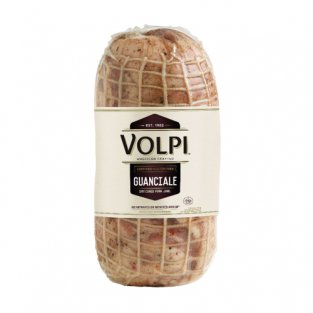 Item #: 1414
Guanciale is a dry cured pork jowl, savory and seasoned salt, pepperoncino and spices. It's traditionally used in classic pastas, like spaghetti all carbonara. Because it's largely fat, guanciale has a more seductive pork flavor and delicate texture than cured meat that comes from pork belly.

Volpi crafts foods with care.
We're the only Midwestern specialty foods company that makes our own dry-cured meats, letting nature perfect each flavor in our family's authentic recipes. There are no shortcuts or artificial processes. We let nature take its time to bring our foods to their delicious peak with fresh Midwest meats and few ingredients. Volpi is mindful of what goes into our foods so that you can feel good about eating them.
Ingredients
Pork Jowl, Sea Salt, Sugar, Spices, Natural Flavoring
Brand: Volpi
Country: United States
Region: Missouri
Size: CW 4 / 4#