Chocolate & Orange Mostarda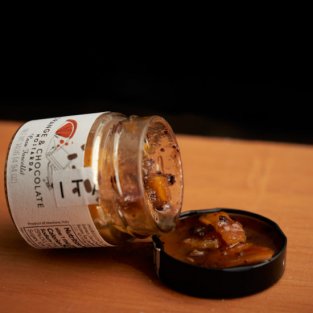 Item #: 458
The staggering combination of candied orange and chocolate pieces comes alive with a hint of potent mustard extract. Mostarda is a traditional condiment that balances sweetness and heat. Suggested Pairings include Gorgonzola Dolce, Miticrema, or Casatica® di Bufala.
Paola Calciolari began her career as a pharmacist but her true passion was food. She took a gamble, leaving her secure job in order to produce typical condiments from Mantova, often employing her grandmother's recipes. And we're glad she did. She makes her exceptional mostardas by sourcing locally harvested fruit, slicing and candying them in their juices, and then adding drops of a very concentrated, spicy mustard extract; it is a highly labor intensive process. Unlike many whole mustard fruits on the market, these are extraordinarily fresh, flavorful and chunky. Though often paired with roasted meats and charcuterie, they also work well with cheese.
Brand: Casa Forcello®
Country: Italy
Region: Lombardy
Size: 6/140 GR.