Pont L'eveque Coupe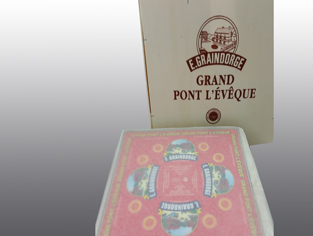 Item #: 23581
Pont l'Eveque is one of the world's ancient cheeses. It dates back to the thirteenth century and was called d'Angelot. The cheese then took the name of the village in Normandy where it is mainly produced. Pont L'Eveque is a small square-shaped cheese of a pale yellow color and with a white-orange rind.
The name of the cheese known as Angelot made by Cistercian monks near Caen was derived from a coin, and it was indeed used as a means of exchange, remuneration and tax. During the 13th and 14th centuries, as the forests disappeared and the swamps were being reclaimed, dairy farming developed in the region. By the 15th century, les angelots were the most famous cheeses in the surrounding kingdom. By the 18th century, to differentiate the cheese from it's rival, Livarot, cheese mongers decided to make it en carré or in a square shape.
The cheese is well known for its delicate bouquet, which is rumored to be reminiscent of the Norman countryside. Pont l'Eveque is a very rich and soft cheese with a creamy and full-bodied flavor. Cooked and unpressed, this cow's milk cheese has a soft, creamy yellow pâte or centre and has a smooth, fine texture which lacks elasticity but has a very pungent aroma. It has a yellowish orange rind which is produced by washing the croûte or rind with salty brine. In flavor, it is subtle and refined on the palate of butter with a marked taste of straw. It is unctuous, lightly salty with aromas cream of and hazelnuts.
Style: Washed Rind
Brand: Graindorge
Country: France
Region: Normandy
Size: CW 2/1.5 KG.
Texture: Soft
Special Order: Yes