di Stefano Burrata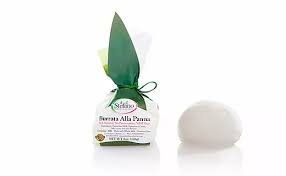 Item #: 8441
The family owned Di Stefano dairy is based in Southern California and is dedicated to only making one product. Di Stefano burrata is hand made with extreme care, passion and dedication!

On the plate this pure, sweet fresh cheese resembles nothing more than a ball of cow's milk mozzarella with a topknot. Once the cheese has been cut open the soft and creamy center slowly runs onto the plate. A luscious filling of stracciatelle blended with Italian panna is encased in a sheet of fresh mozzarella. Like jewels in a drawstring pouch -- a little ball with a big surprise inside - delicate, delicious and very decadent!

Says Stefano: "Using Italian panna results in a creamy, moist and supple filling with an incredible shelf life! Local manufacturing cream produces a far dryer product and leaves you with a harder interior, not what we were looking for! It is worth bringing panna in from Italy on a weekly basis."

Traditionally, burrata would be wrapped in the flavorful blades of Apulian asfodelo, from the same plant order as the leek, which is used to indicate the freshness of the cheese. Once the leaves dried out, the cheese is past prime.

Fresh burrata should be served at room temperature. If it is too cold, the creamy filling becomes solid and hard and lacks that essential lusciousness.
Style: Mozzarella
Brand: Di Stefano
Country: United States
Region: California
Size: 6/8 OZ.
Age: Fresh