Point Reyes Quinta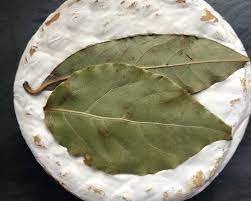 Item #: 8537
Quinta, a farmstead cheese, is made by hand at Point Reyes creamery. Topped with CA Bay Laurel leaves, it is a soft-ripened, bloomy rind cheese, inspired by the very famous, seasonally-made Vacherin Mont d'Or and its close variation L'Edel de Cléron, both from the Jura mountain region along the French-Swiss border.
The interior texture is silky-smooth and the rind is fluffy, yet slightly firm with Bay leaves embedded on the top and bottom.
Made on the farm from their own pasteurized cows' milk, the wheel is wrapped in Spruce bark that has been infused with the essence of CA Bay Laurel, which is indigenous to the region and ever-present on their farm in Point Reyes. Quinta is meant to be enjoyed at room temperature in a single sitting by removing a portion of the top rind and digging in with a small spoon or cheese spreader.
Note: Please do not be alarmed by Quinta's colorful exterior – spots of white, grey, blue and brown sometimes appear on the bark-wrapped, bloomy rind and are totally normal. No need to worry, it's what's on the inside that counts!
Ingredients
Cultured, Pasteurized Cows' Milk, Salt, Enzymes, Bay Laurel Leaves
Style: Soft-Ripened
Brand: Point Reyes
Country: United States
Region: California
Size: 6 / 10 oz
Texture: Soft