Point Reyes Bay Blue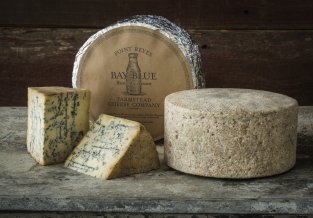 Item #: 8533
Try the newest addition to Point Reyes' product line. Inspired by the sheer natural beauty of their coastal climate and locale, Bay Blue is a rustic-style blue cheese reminiscent of Stilton. It is known for its mellow flavor and sweet, salted-caramel finish.
Fudgy Texture with a gorgeous natural rind. All natural and made with pasteurized milk, Bay Blue is gluten-free and aged 90 days. Tasting Note: Mild and mellow blue-mold flavor with earthy notes and a salted-caramel finish.
Uses: A great Cheese Course blue, paired with toasted
hazelnuts. In recipes it complements mushrooms beautifully -- especially melted in pasta or risotto.
Style: Blue
Brand: Point Reyes
Country: United States
Region: California
Size: CW 6#
Age: 90 Days
Precut Code: 9171