Stracapra della Valtellina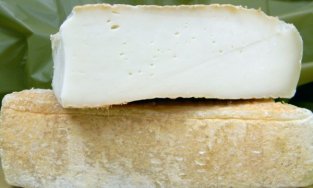 Item #: 7115
Italian Goat Cheese Capra Valtellina is carefully aged and has the soothing taste of sweet mountain herbs with a tangy finish. Centuries of Italian goat herding and cheese making experience come together to give this high quality goat's milk cheese its clean, savory taste. Enjoy this rustic semi-firm cheese with olives and crusty bread. Ambrogio, our talented Taleggio guru, is always putting his creativity to good use by
producing excellent and unique cheeses. His latest, StraCapra, is a washed-rind semisoft
goat cheese, essentially a goat's milk Taleggio. Goat's milk cheeses are becoming ever
more popular in Italy, and Ambrogio's StraCapra is a true standout. Creamy and sweet, it
is rich and full bodied with a mellow tanginess.
Country: Italy
Region: Lombardy
Size: CW 5#